Solar collector mod. VC-25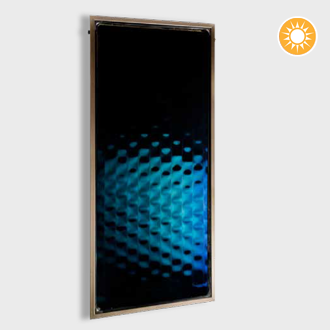 FEATURES:
Solar thermal flat-plate collector for vertical installation, with the following features:
Absorber: in aluminium, high efficiency
Piping: copper
Laser welding
Aluminium tank-frame
Insulation: in rock wool with a thickness of 50 mm 50/80 kg/cu. m density
Glass: tempered, clear, with low iron content
Inlet/outlet: with side connections at the top, size G1
Seals: one-piece type in EPDM, anti-UV
Frame: anodized, bronze-coloured
The thermal solar flat-plate collectors VC 25 can be directly interconnected in series without the aid of supplementary accessories, to form a solar field.
The vertical collectors can be arranged into the following configurations:
| Technical characteristics | | Value |
| --- | --- | --- |
| Dimensions VC 25 | mm | 1080 x 2350 x 100 |
| Overall area | m2 | 2,54 |
| Aperture area | m2 | 2,28 |
| Absorber area | m2 | 2,13 |
| Absorption | m2 | 94 ± 2 |
| Emission | % | 6 ± 2 |
| Glass transmittance | % | 9,8 ± 2 |
| Absorber capacity | litres | 1,5 |
| Maximum operating pressure | bar | 10 |
| Net weight | Kg | 42 |
| Stagnation temperature | °C | 191 |